Branch Brothers Plumbing Blog
Focused on plumbing services in Shreveport and Bossier City.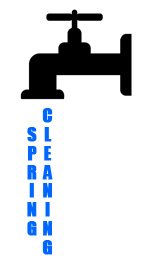 In Bossier City and Shreveport, when you begin your Spring Cleaning, don't forget about your plumbing. Consider the following items to insure your plumbing is properly maintained in the Spring, but also all year long.
Inside Plumbing – "To Do" List
Check the temperature of your water heater. Water heater temperature may vary as the heater ages. Make sure the temperature is set where you like it. Too high can lead to scalding and a waste of energy, too low can cause water waste, as you await a higher temperature to wash.
Drain and flush your water heater to remove accumulated sediment. This should actually be an annual occurrence; therefore you might include it in your Spring to do list.
Inspect your washing machine and ice dispenser hoses. Replace the hoses if cracked, or if the hoses look worn. This easy maintenance step will help you prevent a leak that can ruin a large portion of your home.
Test your home for hidden leaks. Record the reading on your water meter before you go to bed, and then compare it to the morning's reading. Unexplained water loss could be the result of a hidden leak.
Clean your dishwasher drain and unclog any blocked holes in the sprayer arm. This, again, is annual maintenance that can be completed when you are focused on Spring cleaning.
Check for slow draining sinks, tubs, and showers. If there is an issue, try retail solutions like drain cleaner.  If that does not work, then we'll be please to help you.
Outside Plumbing – "To Do" List
Remove outside faucet covers and pipe jackets that were used for cold weather insulation. Also, if garden hoses were left outside, check the hoses and sprayers cracks and leaks, and replace as necessary.
Test your sprinkler system and check for leaks—especially if did not prepare the system for winter weather. Because of the hard freeze in our area over the winter, you may have some damaged sprinkler heads.
Clean patio drains and ensure water flows through as expected.
Spring is also a good time to have your sewer lines cleaned out and serviced if there are any roots or other debris that regularly clog your main sewer line.
 
A licensed plumber, like Branch Brothers Plumbing, can ensure your systems are running smoothly and may spot trouble before costly repairs are needed. Plus we have an A+ rating with the Better Business Bureau. 
Call Branch Brothers Plumbing in Shreveport and Bossier for all your plumbing needs.
A running toilet is annoying.  You can often hear it all across the house, especially at night, when things quite down.
A toilet runs because water continues to flow into the bowl, instead of shutting off like it is designed to do.  Below are the most common problems that cause a running toilet:
The flapper loses its seal. This may happen because the flapper is old and degrading. After all, it is submerged in water for years at a time. We've also seen sediment build up with hard water and cause the flapper to become rough with deposits.
Other worn out seals. Old seals at the bottom of the overflow tube, or fill valve, can cause water to leak. Seals will crack with age, or again they can become brittle or have sediment deposits from hard water.
The float could be set at the wrong fill level. If your float is set too high it won't shut off the fill valve, and water will continue to run into the bowl.
The fill valve could not be working properly. The float possibly reaches the correct level, but the valve may not shut off because it's worn out.
The chain could be the wrong length, or possibly be broken or deformed, causing the flapper to not seal properly, which allows water to leak into the bowl. We've seen chains get stuck between the flapper and the seal because they are "double up" and the loose end gets in that gap.
These problems can be fixed by replacing the part that is not working, which you can usually find at your local hardware or home improvement store. Or, to make it easier on you, give the professionals at Branch Brothers Plumbing a call and we will happily come out and fix your problematic toilet.
Clogged pipes are a nuisance, all year long.  To avoid clogged pipes, be mindful of what you put down the drains in your house.  Here's a quick list:
Kitchen Sink
Eggshells
Grease, Fat, and Oils of any kind
Coffee Grounds
Food stickers or tags
Paper Towels
Bathroom Sink and Toilet
Hygiene Products
Condoms
Diapers
Flushable Kitty Litter
Chemicals like Nail Polish and Nail Polish Remover
If You Have a Clog
Smaller stoppages, slowdowns, and backups can often be cleared with a plunger or a drain chemical like Drano. (Be careful with a drain cleaner chemical if you have a septic tank, like many do in rural Louisiana.) If these steps don't work, you'll probably need a licensed plumber with professional equipment. 
Our licensed plumbers will be able to diagnose and remove the clog quickly. With more than 30 years in the plumbing business, we are an experienced team who will find what's going on with your plumbing system, and resolve it.
If necessary, sewer stoppages can be investigated and diagnosed through the use of a camera inspection. We have this capability. This helps us identify where the blockage is located, whether it's in the main line or any of the other sewer lines in your home. It will also alert us to damaged areas (if any).
Trust us with your clogs and any plumbing issues!  We're Branch Brothers Plumbing serving Shreveport and Bossier City.
A tankless, or "on demand" water heater, is just that; a water heater, minus the tank. "On demand" water heaters only heat water when you turn a faucet on.  The water is heated as it flows through the system.
Pros of an "On Demand" Water Heater
When you turn on a hot water faucet, you don't wait for hot water. This is especially true in the winter when you can sometimes wait minutes before the hot water in your shower or sink becomes hot enough to use. With an "on demand" water heater, the hot water is there for you immediately.
You can expect an average cost savings of approximately 25% off your monthly energy bill, dependent upon the quantity of water your household requires. In a traditional water heater (with a tank) electricity, or a gas burner, constantly warms the water. The projected savings is due to fact that tankless water heaters do not have to do this. Additionally, a tankless water heater is 97% energy efficient, compared to 60% energy efficient for a tank water heater.
The instantaneous nature of "on demand" water heaters also reduces your water bill. There is no longer a wait as water warms up, therefore your family members can immediately use water, which reduces water usage.
Cons of an "On Demand" Water Heater
A disadvantage of an "on demand" water heater is that the flow rate may be limited.  This could be true if you have a large home and there is simultaneous usage of hot water.  For example, if you are washing clothes and someone is taking a shower. The solution to this is fairly simple – install more than one "on demand" water heater in your home. It is very common to use multiple water heaters in a large home to account for different stories, or a more distant water need.
An "on demand" tankless water heater is more expensive that a conventional water heater, but in the long-term your investment pays for itself because "on demand" heaters can last 20 years, compared to a traditional water heater that lasts half that time. Replacement parts for an "on demand" water heater are readily available, which can extend the life even further.
Call Branch Brothers Plumbing
Installation of an "on demand" water heater should be completed by a professional plumber, due to building codes, permits and, most importantly, safety.
To switch or upgrade – call Branch Brothers Plumbing in Shreveport and Bossier City to take a look at your home or business. We'll be happy to give you an estimate!
Branch Brothers Plumbing Inc.
1307 Driftwood Drive
Bossier City, LA 71111
(318) 742-9828
LA: LMP R703
(c) Branch Brothers Plumbing. All Rights Reserved.