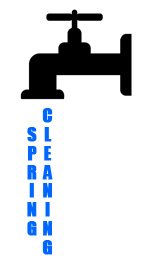 In Bossier City and Shreveport, when you begin your Spring Cleaning, don't forget about your plumbing. Consider the following items to insure your plumbing is properly maintained in the Spring, but also all year long.
Inside Plumbing – "To Do" List
Check the temperature of your water heater. Water heater temperature may vary as the heater ages. Make sure the temperature is set where you like it. Too high can lead to scalding and a waste of energy, too low can cause water waste, as you await a higher temperature to wash.
Drain and flush your water heater to remove accumulated sediment. This should actually be an annual occurrence; therefore you might include it in your Spring to do list.
Inspect your washing machine and ice dispenser hoses. Replace the hoses if cracked, or if the hoses look worn. This easy maintenance step will help you prevent a leak that can ruin a large portion of your home.
Test your home for hidden leaks. Record the reading on your water meter before you go to bed, and then compare it to the morning's reading. Unexplained water loss could be the result of a hidden leak.
Clean your dishwasher drain and unclog any blocked holes in the sprayer arm. This, again, is annual maintenance that can be completed when you are focused on Spring cleaning.
Check for slow draining sinks, tubs, and showers. If there is an issue, try retail solutions like drain cleaner.  If that does not work, then we'll be please to help you.
Outside Plumbing – "To Do" List
Remove outside faucet covers and pipe jackets that were used for cold weather insulation. Also, if garden hoses were left outside, check the hoses and sprayers cracks and leaks, and replace as necessary.
Test your sprinkler system and check for leaks—especially if did not prepare the system for winter weather. Because of the hard freeze in our area over the winter, you may have some damaged sprinkler heads.
Clean patio drains and ensure water flows through as expected.
Spring is also a good time to have your sewer lines cleaned out and serviced if there are any roots or other debris that regularly clog your main sewer line.
 
A licensed plumber, like Branch Brothers Plumbing, can ensure your systems are running smoothly and may spot trouble before costly repairs are needed. Plus we have an A+ rating with the Better Business Bureau. 
Call Branch Brothers Plumbing in Shreveport and Bossier for all your plumbing needs.